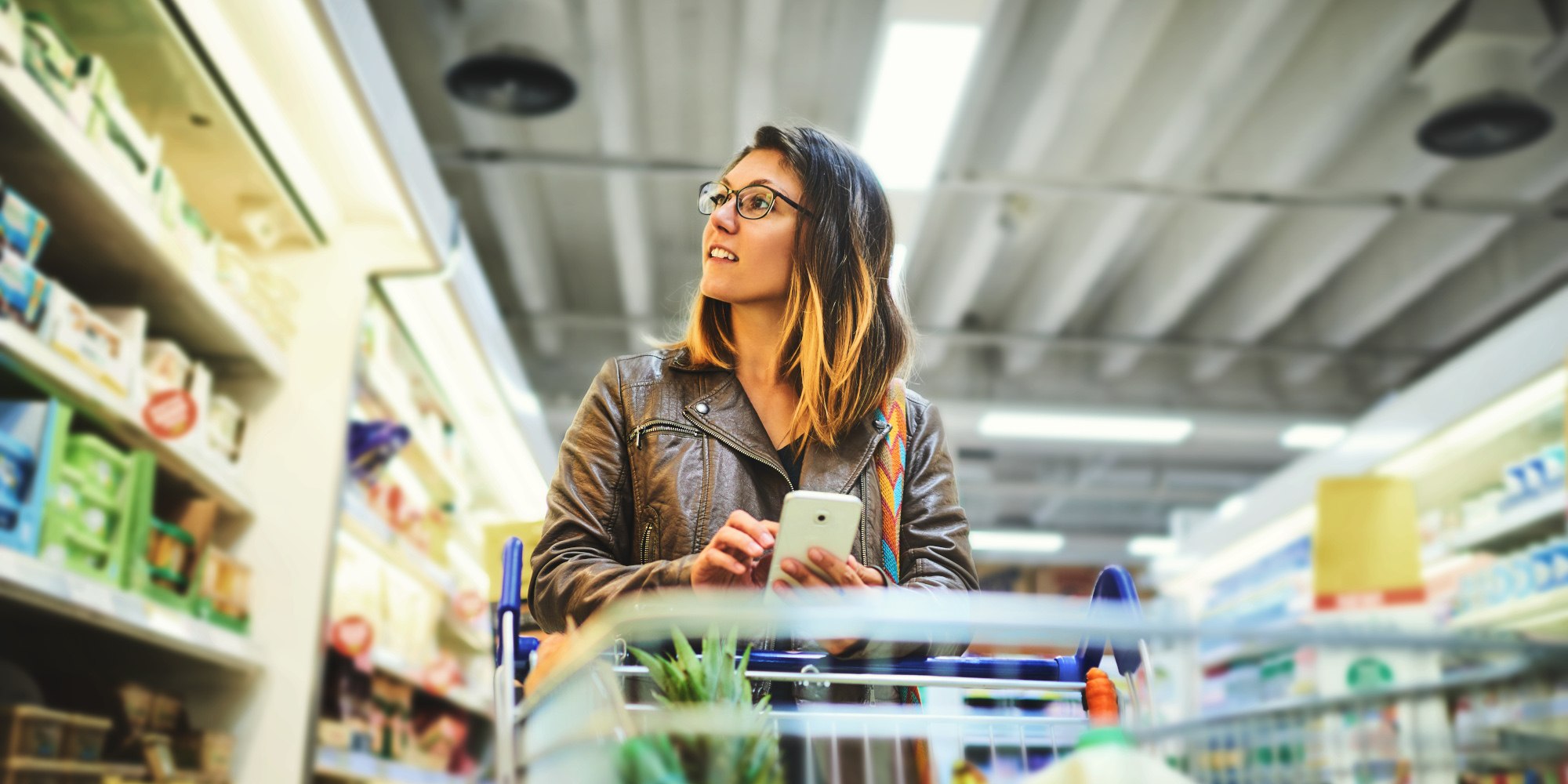 The appeal of frictionless
25th March 2021
"Amazon makes it too easy to buy things," was the verdict of one Business Insider journalist on their experience of shopping in the retail giant's first foray into UK bricks and mortar retailing, which opened in Ealing earlier this month.
'Amazon Fresh' (known as 'Amazon Go' in the US) is pushing the boundaries in frictionless customer experiences from the company which transformed online shopping with 'one-click' purchasing. Now creating a 'just walk out' experience for its grocery stores, shoppers are invited to simply scan their smartphone app upon entering, select their purchases and leave without having to physically check-out; an automated bill is simply added to their app account upon exiting.
The move has been described by one retail analyst as a 'watershed moment', with cameras, depth-sensors and deep-learning artificial intelligence (AI) deployed to calculate customers' bills, removing the hassle of queueing and the risk of dreaded 'unexpected items in the bagging area'.
What's more, by removing the physical payment process, customers gain a more positive view of the brand, having missed out on parting with money, which behavioural psychologists describe as being viewed as akin to losing money.
Beyond frictionless payments
Well before the point of purchase, frictionless customer experiences bring together 'right place, right product, right time' factors to merge context, content and commerce across the entire customer journey and provide customers with easy and enjoyable experiences at every touchpoint.
The most radical examples, from Uber to Netflix, have challenged traditional models, replacing 'pain points' with seamless experiences to offer more accessible, and often more affordable, services.
Other technologies are being drafted in to remove barriers and augment the customer journey through experiential marketing. IKEA Place, the app from the Swedish furniture stalwart, utilises augmented reality to enable users to virtually 'see' potential purchases in-situ, placing them in to-scale, 3D models, taking tape measures and guesswork out of furniture shopping.
In another example, smart speaker sales have enjoyed significant sales growth, particularly as the world spends more time at home, with global sales for 2021 predicted to increase 21% year-on-year (source: Canalys 2020). From playing music upon verbal request to automatic ordering, consumers can have what they want almost as quickly as you can say, 'Alexa, add red wine to my shopping list.'
As technology has revolutionised the way we live, consumers now have - and demand - effortless experiences and instant solutions to their needs as standard. As Matt Birch, director of Amazon Fresh stores, puts it: "We've heard from our customers how much they enjoy … the effortless shopping experience."
So what about insurance?
Often regarded as a grudge purchase, insurance has been somewhat neglected when it comes to re-envisioning the consumer experience, which is what makes it ripe for transformation.
While some providers have introduced 'no questions asked' shopping experiences, sourcing risk information from other sources as a means of removing the burden of data entry from consumers, there is scope to go much further in adopting new engagement models that build positive experiences and go beyond simply 'taking the pain away'.
Achieving this relies on proactive triggers and a fresh approach to risk and reward, making intelligent use of data to create a new relationship with the customer - one that adds value and/or saves them money.
Using data to generate added value alerts and proactive triggers is one approach: for example, if appliances, such as fridges or washing machines, are subject to a product recall or a vehicle's MOT is due; generating home insurance quotes as renewal approaches or gadget insurance when a new device is detected on the wi-fi network.
Creating a more dynamic, portfolio-based model of engagement is key; looking beyond traditional services and ancillaries to remind customers that you have their back, giving them a reason to engage mid-term and, importantly, giving them a real incentive to maintain and build their policy portfolio when the term is up.
CDL platforms for data insights and product personalisation are real game changers for the industry. It is the frictionless experiences they create which will help differentiate brands, win customer business and generate loyalty into the future.
© 2023 Cheshire Datasystems Limited
Top Employer